Pop States of America
Artist Steve Kaufman Featured In "Pop States of America" Exhibition at Barbara Frigerio Contemporary Art in Milan, Italy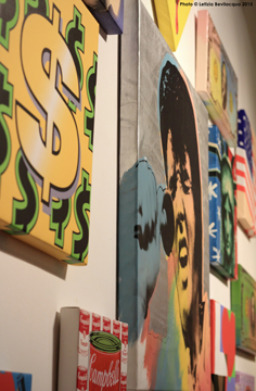 January 20, 2015 / Milan, Italy --
Diana Vachier and Alberto Panizzoli of American Pop Art, Inc. are proud to announce the exhibition, "Pop States of America," a vivid perspective of American icons by artist Steve Alan Kaufman (SAK), now through March 15, 2015 at Barbara Frigerio Contemporary Art in Milan, Italy. A grand opening celebration was held on January 15, 2015.
Pop States of America is exclusively dedicated to artist Steve Kaufman, former assistant to Andy Warhol and one of the greatest exponents of pop art. This exhibition features about 30 of Kaufman's limited edition paintings and highly acclaimed "Uniques," hand embellished oil on canvas silkscreens.
After his Factory years, Steve Kaufman propelled himself forward to redefine and document, as an "artistic journalist," the contemporary world through its icons. He left behind the critical and aloof that was inherent in the work of Warhol. Instead, Steve Kaufman immersed himself in life. He painted with enthusiasm and "joie de vivre," a cheerful enjoyment of life. His motto was to "CREATE," as this was, in his outlook, the real freedom above all else.
Pop States of America shows us Steve Kaufman's various styles and different methods: He draws, paints, and creates serigraphs then retouches them by hand, to give a uniqueness to recognizable images. The subjects presented in this exhibition portray the United States through its patriotic symbols from the American flag to the Statue of Liberty, and famous personalities from Marilyn Monroe to Elvis Presley. All are described in an explosion of colors, all telling of an artist who always looked to the outside world with passion and curiosity.



Barbara Frigerio Contemporary Art is located at Via dell'Orso 12 (entrance at Via Ciovasso 3), 20121 Milano. For more information about this exhibit, visit
http://www.barbarafrigeriogallery.it/page/18, or call 011-39-0236593924.
Maurizio Galimberti: "readymade"
ART on ART performance using STEVE KAUFMAN IMAGES
We arrived in Milano to find a lovely surprise: Art on art interpretations created by notable artist Maurizio Galimberti just two days before the grand opening of "Pop States of America" exhibition. Below are photos from the grand opening. Maurizio Galimberti with assistant Giancarlo Pagliara were also photographed as they worked on their READYMADE creations using Polaroid film.
CLICK HERE to see more and read the article by Centoparole magazine.