FREEPORT PUBLIC SCHOOLS RECEIVES EIGHT LIMITED EDITION PAINTINGS TO INSPIRE AND ENCOURAGE STUDENTS
AMERICAN POP ART, INC. GIFTS "ABRAHAM LINCOLN: PORTRAIT OF AN ACHIEVER" BY LATE ARTIST STEVE KAUFMAN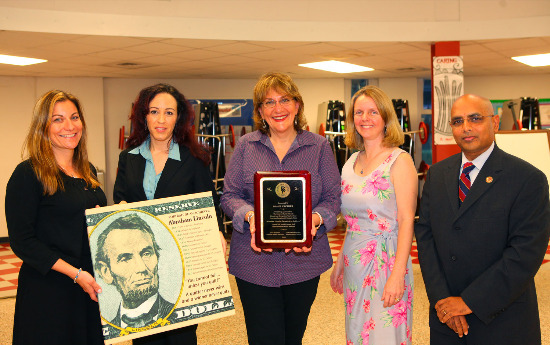 May 24, 2012 / Freeport, NY
– In honor and recognition of the students at Freeport Public Schools, the district was gifted with eight examples of the inspirational painting, "Abraham Lincoln: Portrait of an Achiever" for display at every school. The 20-by-20 inch limited edition paintings were presented by Diana Vachier, owner of American Pop Art, Inc. Rachel Dengel, Diana Vachier's daughter, is a sixth grade teacher at Caroline G. Atkinson Intermediate School.
In his lifetime, American pop artist Steve Kaufman aided approximately 2,000 troubled youth by giving them jobs at his Art Studio. He also contributed to about 175 charities. Steve Kaufman specifically painted "Portrait of an Achiever" for the purpose of inspiring and encouraging young people. The painting's message is to show that no matter how many times a person fails, he or she can always succeed. Despite how many failures Abraham Lincoln had in his life, he went on to become a great President.
Diana Vachier, who worked as a longtime assistant to Steve Kaufman, is committed to continuing the artist's legacy of helping kids. Ten percent of sales from the web site www.americanpopartinc.com go to S.T.R.O.N.G. Youth, Inc., Long Island's only gang rehabilitation agency. Additionally, 20 percent of sales from the web site's Charity page will go to the buyer's choice of charity. Officials hope funds will be designated for Freeport Schools, with the support of local businesses and the school community.
Pictured left to right are: Rachel Dengel, Educator, Atkinson Intermediate School; Leslie Gonzalez, Communications, American Pop Art, Inc.; Diana Vachier, Owner, American Pop Art, Inc.; Debra Mulé, Vice President, Freeport Board of Education; and Dr. Kishore Kuncham, Freeport Superintendent of Schools. Photo by Howard Schnapp.
For more information about artist Steve Kaufman, please visit:
www.americanpopartinc.com
. For art inquiries, please contact Diana Vachier at
[email protected]
.